Back to all
Auto Detailing: Make your old car new again
Auto Detailing: Make your old car new again
Cruising around in a shiny clean ride can make you feel like a million bucks, but when finances get tight, luxuries like professional auto detailing services are usually don't make the cut in the family budget.
Giving your car a thorough cleaning inside and out is easy to do if you know how and have the right tools on hand. It'll save you a bundle, too!
Here is a step-by-step, do-it-yourself guide to get you started:
1. Gather your tools.
Bucket
Water/Hose
Sponges
Car washing soap (not dish soap)
Windex
Rags
Toothbrush
Pencil
Vacuum cleaner with attachments
Q-tips
Canned air.
Carpet or upholstery stain cleaner.
Car Wax
Chamois cloth
Surface protector (find one without silicone)
Tire Shine
2. Remove the pop cans, candy wrappers, dried leaves and other debris/trash from the floor and seats. Be sure to look under the seats, too.
3. Take out your "stuff", even car seats, CD's and sunglasses – everything, so you have a clear area to work in.
4. Take the rugs and floor mats out, shake off the loose dirt, vacuum them, scrub with a little soapy water and then spray off with the hose and put them in a sunny spot to dry while you work on the rest of the car.
5. Now vacuum, vacuum, vacuum. Use your shop vac, your home vacuum with attachments or run up to the local car wash and use their industrial version. Some experts recommend using a damp piece of t-shirt material stretched across the end of the hose for extra grabbing power to remove tiny particles. (Be careful not to let the material get sucked in!)
6. For pet hair, use a sticky-type lint roller, or a rubber-type brush to grab those hairs out of the fabric.
7. If you find stains use upholstery or carpet cleaner according to directions on can.
8. Windows & Mirrors: Grab your Windex and some paper towels and go all the way around the inside (save the outside for after you wash and wax). Look at different angles to be sure there are no streaks.
9. Now use one of your damp rags to wipe down the dash, doors, door jambs, steering column and center console. There's probably still "stuff" stuck in the crevices so grab a toothbrush and scrub to lift it out, or try a Q-tip.
10. Getting the deep down gunk from the crevices is really the difference between a car wash and a detail job. So pay special attention to the "small stuff". A plastic knife or tip of a pencil covered with a thin cloth or some canned air can usually get the deep down dirt.
11. Go over the dash and consoles with surface protector (look for one without silicone).
12. Now to the outside! Start with your wheels and tires. Wash with a scrub brush and a bucket of soapy water. You can use special tire soap or the same cleaner you use for the rest of the car. Be sure to get a car-appropriate soap that won't strip existing wax. Don't use dish soap.
13. Using a fresh bucket of soapy water and clean rags, wash the rest of the car. Use the same method as you do for waxing: wash small areas at a time, work from top to bottom and rinse immediately so soap doesn't dry on. Keep wet until you are ready to hand-dry for shiniest finish.
14. Change your rags often. Dirt in the rag will scratch the surface of your vehicle.
15. Get the little stuff out with small brushes, Q-tips, etc. and keep rinsing with fresh water.
16. Now work quickly to dry the car with a clean chamois or a cotton cloth.
17. Almost done. Now we wax. Working on one small section at a time, apply the wax in a circular motion with a micro-fiber towel. Wait for about 10 minutes, (don't let it get too dried on). Wipe down surface with a clean white towel. Do this out of direct sunlight.
18. Windex the exterior windows and mirrors. Dry with paper towel and check for streaks.
19. The little touches like shining your tires are what make your vehicle stand out in the lot. So get some good tire shining product and give them a good spray.
20. If you want to go the "extra mile" add a little air freshener to the interior and you are on your way!
A freshly detailed car feels great to get into every morning for your own enjoyment, but it is an especially good idea if you are thinking of selling your car. And a do-it-yourself auto detailing makes a great a low-cost, personal gift for a friend or family-member.
Now cruise uptown and show off your ride!
More articles from Quick Change Oil Brooklyn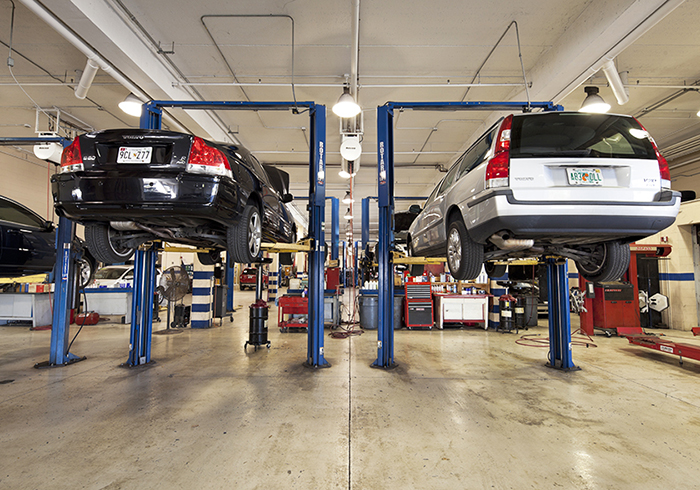 Fall Car Care Tips Fall is a great time to pull out your owners manual and make a list of scheduled preventative maintenance. Winter is weeks away and getting your car in tip-top shape now, may help prevent... More